Scheme of Examination and Promotion
It is necessary for every student to complete 75% attendance to be eligible to sitfor the examination.
For Classes I to III there will be NO FINAL EXAMINATION. There will be continuous assessments on the basis of day to day work of each child.
Assessment structure for Scholastic Area
Students will be graded on 8 point grading scale.
For Classes IV & V there will be 2 terms (Term 1 & Term 2). Each term consists of 100 marks.
– Periodic Test -30 marks, Note Book Submission-5 marks, Subject Enrichment Activity-5 marks and Term Examination -60 marks, covering entire syllabus of that Term.
For Classes VI to VIII there will be 2 Terms (Term 1 & Term 2). Each term consists of 100 marks.
– Periodic Test -30 marks (wt. 10 marks), Note Book Submission-5 marks, Subject Enrichment Activity-5 marks and Term Examination 80 marks.
Term 1-Written Examination for 80 marks will include the entire syllabus covered in Term 1.
Term 2 -Class VI : 10% of Term 1 and the entire syllabus of Term 2,
Class VII : 20% of Term 1 and the entire syllabus of Term 2,
Class VIII : 30% of Term 1 and the entire syllabus of Term 2.
Note : It is mandatory for the students of Class VIII to pass in the Third Language( French / Sanskrit )
For Classes IX & X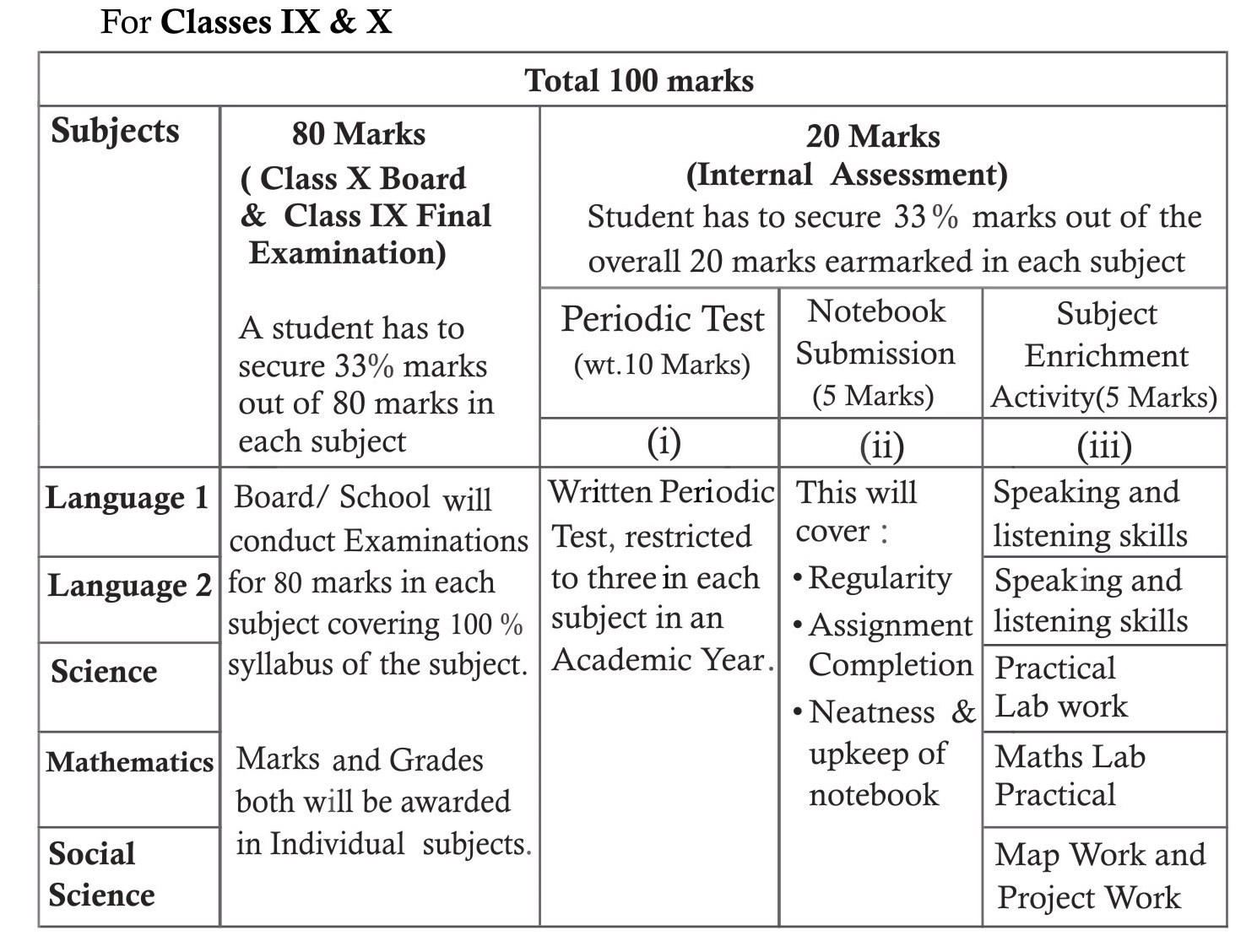 2. Co- Scholastic Activities:
(I) School promotes co -curricular activities for the holistic development of the student.
(II) These activities will be graded on a 5 point scale (A to E).
(III) Co- scholastic area will co ver SUPW / Art Education /Health and Physical Education.
3. Discipline (Attendance, Sincerity, Behaviour, V alues) :
Discipline significantly impacts career shaping and it helps build character. Sincerity, good behaviour and values develop strength and foster unity and co-operation. The students will be graded on a 5 point scale (A to E).
---
Scheme of Examination for Class XI & XII
1. (a.) For Class XI Half Yearly and Final Examinations will be carried out at the end of each Term.
(b.) For Class XII Four cycles of Examinations will be s will be carried out during the year.
2. Over and above the main Examinations, there will be two additional cycles of unit tests.
3. For Class XI, promotion to class XII shall be decided on the basis of the Cumulative results of
Mid Term Exams and Annual Examinations.
4. In order to be declared "Pass" at the end of the session, a student of class XI must secure
atleast 33% marks in each of the subject studied by him/her during the session, subject to the
condition that he/she secures 33% marks separately in Theory and in Practical.
---
Weak students should attend the Remedial Classes when held.