Visitors / Workshops
Cyber security online workshop for the parents
Young people need a good understanding of cyber security because they are often exposed to cyber threats. This has however increased manifold more so during the current times when everything from leisure to education is available to them through the online mode. However, talking about this subject with our own children can be quite a challenge. We at The Pinnacle School believe in working in coordination with the parents to ensure that our students are protected from falling prey to any such malicious intent. Keeping that in mind we organized an online session on 22nd August 2020 with experts in the domain of Cyber Security Ms. Shifa Cyclewala and Mr. Rohit to guide us as educators and parents to help our children walk the path of online learning safely.
Visit of Dr. Aditya Arya- Special Commisioner of Armed Police
Dr. Aditya Arya, Special Commissioner of Armed Police, Delhi, visited The Pinnacle School on 11th May 2012. It was a great privilege and honour for the school to have in our midst one of the finest Police officials, who has earned an excellent reputation for his forthright approach to improving the role of the Police everywhere he has served.
After a traditional welcome and the lighting of the lamp, Dr. Arya was given a glimpse of the variety of cultural activities of The Pinnacle School, namely singing, folk dance, yoga and a Nukkad Natak. Dr. Arya then had an hour-long interaction with the students. His words were both, enlightening and inspirational.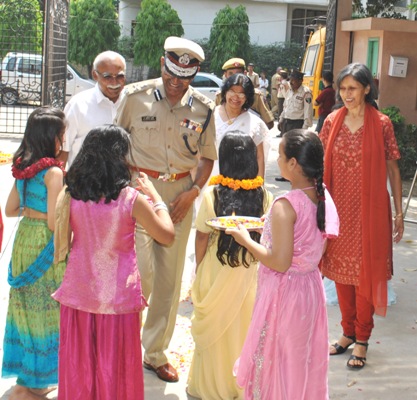 Visit of Jon MC Bride – Astronaut
Jon A. Mc Bride – an astronaut from NASA visited the Pinnacle school on 2 April 2012, to meet and interact with the senior students. He had commandeered the space shuttle Challenger with a team of 6 other astronauts in 1984. He showed a short film on the challenge of an astronaut's life in a space shuttle. It was both amazing and extremely interesting. His message to the children was "study! You are doing what you are supposed to be doing right now – so study well and aim for the stars!"
He told the children that he had always wanted to be an astronaut and had planned his life to that end. He was a Naval Aviator for 15 years and followed in the steps of Alan shepherd till he got chosen to enter the Space Programme at NASA. His visit was motivational and inspiring. He presented each participant with an autographed photograph which has his biographical data.
Patta
PATTA (Pinnacle and Tiny Tots Alumni Association) was first formed and its objectives laid in 2008. Old school friends were tracked down and invitations were mailed to ex-students. registrations were made and the guest list prepared. The meet was meant to be an amalgamation of the 80s, 90s and 2000 batches. Such reunions will be continued in the future too.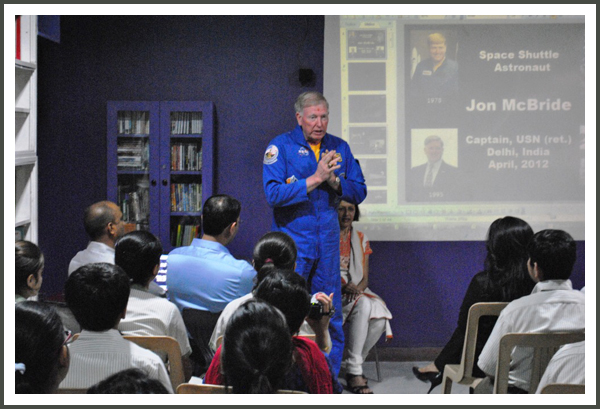 The 'STUDY INDIA PROGRAMME' at the Pinnacle School
On 23rd August 2010 a team of three students from the University of Birmingham in the U.K. visited us at The Pinnacle School .This was a five day educational and cultural exchange organized by the Study India Programme. The visitors adjusted well and became part and parcel of the day to day activities, and they enjoyed every moment in the school.The school had planned a number of activities and workshops for their entire five day visit, which gave them an insight in to India's Heritage. This exchange brought out the similarities of both the countries. Interactive sessions were also held on European culture. This interaction brought about joy and creative exchange of ideas between individuals of two different parts of the world. These Interactions create value in ones life. Some day the whole world will be one and interactions like these bring us closer to that day.
Spotlight:
Mr. Jitender Singh, MP, Alwar
Initiating a new process of introducing students to leaders who have achieved prominence in their respective profession is a new initiative for us at the Pinnacle school. Commencing the endeavour was Mr. Jitender Singh, MP, from Alwar. His steady journey from being an engineer to becoming a parliamentarian was exemplary in many contexts. His candid approach in answering the questions posed by the students allied with his simplicity and humility, spoke volumes about the man. A strong patriot, he believes that one can make a difference if one had the will, determination, courage and above all, the belief in one's ability. His presence and his words surely motivated many students who started to look at politics in a different light and also as a future profession.
Sharmila Tagore in the Spotlight :
She came, She Smiled, She Spoke And Swept us off our feet!
Dignity, humility and beauty personified in one, Sharmila Tagore epitomizes the ideals of today's working women who can create a good balance between family and world.
On 16 April, we hosted Mrs. Sharmila Tagore
She applauded the children for their excellent discipline and the cultural programme they had put up to welcome her to the school.Talking about her own childhood, she inspired students with her story wherein she started working in films at the age of 13; but had to
leave her school because in those days working in films was considered to be a bad influence. Yet in the face of all these adversities, she not only climbed the steps of a great career but also received a good education. On a lighter note, when one student enquired which profession was better. 'Cricket or films?', she smiled and chose the latter for the simple reason that retirement comes early in the game of cricket, but one can still find work in films at any age. At the end of the day, it was all about what one is passionate about as one should find the right reason in choosing a profession and not just because it is glamorous. The overall experience was enlivening and highly inspirational as she encouraged the students to achieve success through humility and compassion rather than opting for a glamorous or fashionable profession. She came across as a role model for all our students that day, which was truly worth remembering.